Where do you store your memories?
We all have those memories of our past that generally came from a picture or a home movie.  We have other memories that were not memorialized with a polaroid or Facebook memory, but the ones that we can go back to and almost relive are the ones on VHS.  I am an 80's baby, so VHS is my go-to.  If you are younger perhaps it is an 8 mm or a mini DV.  Younger still it is merely on a cell phone uploaded to a cloud.  Regardless of the way you obtain these moving memories, they are there for you to replay.  During the 1980's the VCR had a boom in sales.  Even though it was around since 1956, the amount of money it cost was around $1500 then and in the 80's it had fallen to around $200, depending on which one you bought.  Further still the first VHS camcorder was out in the late 1970's. 
My father, who had been a photographer in WW2, had a passion for any type of photography.  I think if he didn't follow his father into construction, and was a dreamer like myself, he would have been a photographer.  When I was born, both the VCR and VHS camcorder became a daily use.  My mom was a stay-at-home mother and I think if you played back-to-back movies, you could see me grow up for the first 5 years.  Not only were holidays and birthdays recorded, but just mundane everyday occurrences.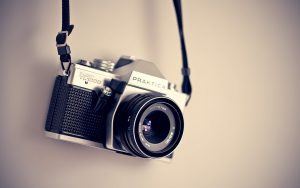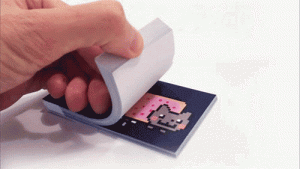 Putting the movies together with photographs in the massive binders we have, my brother and I are practically a cartoon strip.  I feel that the novelty of these types of memories have worn off a bit.  I know we take a lot of pictures with our phones, and they are easily assessable and instant, but the home movie is becoming something of a dinosaur.  When my son was first born and the holidays and birthdays that came after, I recorded on our camcorder and now on my cell phone.  But that is really all I have.  The special occasions, not the videos of normal life and what it was like living with a baby, toddler, grade schooler and now teenager. 
When I go back to watch my home movies from when I was little, I do it more to hear my dad's voice.  I want to see and remember what it was like to live in a home that I felt safe and secure in.  Sometimes when I think I can no longer remember how my dad was or how he sounded, I will pop in a video cassette.  I don't take movies of myself with my son.  It is normally just focused on him and what he is doing.  Not the whole family.  I hate my picture being taken and more so a moving one.  So, I tend to be behind the camera.  Will my son be able to do what I do when I am gone?  Will he be able to recall his "VHS Memories"?  Something to ponder I suppose.
To help with organizing your memories, a plastic case that helps separate the photos.  I got this for our massive amount of photos.  Like I said we could be a cartoon strip with how many we had.  Check out the link!