Movies have been a big part of my life, kind of like music.  A way to escape the daily grind or whatever was bothering me from that day.  In essence it is a portal to other lives.  If the acting is good and the story solid, you can be taken away like you are only existing within the movie and who you are, is insignificant.  You become that hero on the journey or fighting to save the people you love.  We all have our favorites.  We can go back and watch some movies a million times and it will never get old.  This is my top five list.  I chose these ones for different reasons.  Whether it holds memories of sitting with my family and watching it, or just because it is so damn entertaining.  Delve into my top five.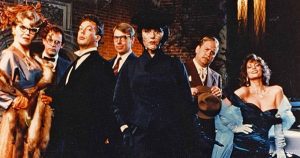 Besides being a star-studded line up, the cast is perfect for their parts.  I doubt I could pick a better Miss Scarlet than Leslie Ann Warren.  Madeline Khan is hilarious as Mrs. White, to the point I would want to play that character in the boardgame more than Miss Scarlet.  But I think we all know who stole the whole movie…Tim Curry.  I will continually tout him as one of the best actors.  I have to say he probably is my favorite.  No matter how many times I watch this movie, I still laugh.  If you have not watched it than you need to do so right away.
2. Abbott & Costello: Hold That Ghost
Yes, it is a black and white film and no this will not be the only one.  Besides the brilliant act of Abbott & Costello, there are a few other people within the film, that just make it great.  Shemp, from the Three Stooges, who you know can pull off a well timed joke.  My favorite is Joan Davis.  She was a comedic actress as well as a radio personality.  She works so well off Lou Costello.  I will warn you that this movie is of the time, 1941 to be exact.  So, there may be things in it that you may find offensive now.  However, if you take it as is and enjoy the jokes, hilarity will ensue.
I told you I would have more than one black and white movie on my list.  There are a few versions of this movie.  The 1939 version is my favorite, and really should be classed as the only one.  Norma Shearer stars in this version.  Her acting ability alone is worth the watch.  She was from the silent movie era, therefore your emotions must be shown and acted out rather than just with words.  Her facial expressions tell you everything and she need not say a thing.  Plus, I happen to think she was beautiful.  The basis of the story is how women talk and tend to betray each other.  Again, it is dated and of the time.  They talk about divorce which was taboo back then.  It is a love story but one that brings with it regret.  For the feminists out there, Norma Shearer was very much ahead of her time.  She often played parts that pushed against the stereotype of women.  Another movie based off this one was called The Opposite Sex, which starred June Allyson and Leslie Neilson.  Personally, I am not a fan of June Allyson, her voice grates and compared to the acting capability of Norma Shearer, she can't hold a candle.  Finally, there is a modern take on this movie called by the same name.  It starred Meg Ryan.  Let me just say it sucks.  Don't waste your time.
This movie has Nicholas Cage and Kathleen Turner in it.  It is generally about Peggy Sue not being happy with where her life had ultimately taken her.  She passes out at her high school reunion and wakes up to find herself transported back to high school.  I just love the idea of what you may do differently if you had the chance.  Would you be willing to lose out on the good that came of your life, just to hope for something better?  It is a great movie, well at least to me.
5. The Lion, The Witch & The Wardrobe
Any version really.  I originally started out by watching the British miniseries.  Then there was the animated version and then the more recent ones.  They each have great parts about them.  I just love the imagery and the creativity.  Obviously being based off the books, it is a world of heroes and fantastic beasts.  It fits in my wheelhouse of imagination and dreaming of other worlds to explore.  Like I said, you can jump into the story and become the hero.  Fly atop a dragon or many other mythical animals.  It fed into my daydreaming and escapism.
Labyrinth:
Yes, I know those who know me are surprised this is not in the top 5.  While this movie holds a special place in my heart as well as defining my childhood, I must be in a certain mood to watch it.  But believe me it has seen many playthroughs within my lifetime. 
"You remind me of the babe.  What babe? The babe with the power.  What power?  The power of voodoo.  Who do?  You do.  Do what?  Remind me of the babe."
The NeverEndingStory:
Another movie that shaped my childhood. I have the title song on my playlist and it helped my imagination take off. Truth be told this movie was a bit scary. Not to mention ripping your heart out with Artax and the Swamps of Sadness. That scene still gets me. It is another movie I just need to be in the right kind of mood to watch. I have watched it probably more than 100 times, so no worries on getting repeat playing.
"I am Gmork. I am the servant, of the power behind The Nothing. I was sent to kill the only one, who could've stopped The Nothing, I lost him in the Swamps of Sadness." – Gmork "The NeverEnding Story"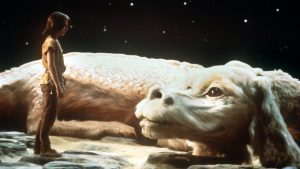 Batteries Not Included:
This is such a sweet but heartbreaking story.  It is a classis and whenever I come across it again, I need to watch it.  I always wanted to find little flying saucers helping me out.  But unfortunately, that never happened.
         In all honesty, I have way more movies I could easily add to this list.  But for the sake of length, I'll keep it to the five.  Movies are always a great outlet to dive into another world, fight bad guys or fall in love.  It is a way to escape and enjoy a good story.