I know we all have our favorites.  I also know each family has different sides they bring out for the holiday. So, I know not everyone will agree with my list.  Just hear me out.  These are tried and true for every year we have celebrated.  Perhaps they may give you some ideas for new things to try.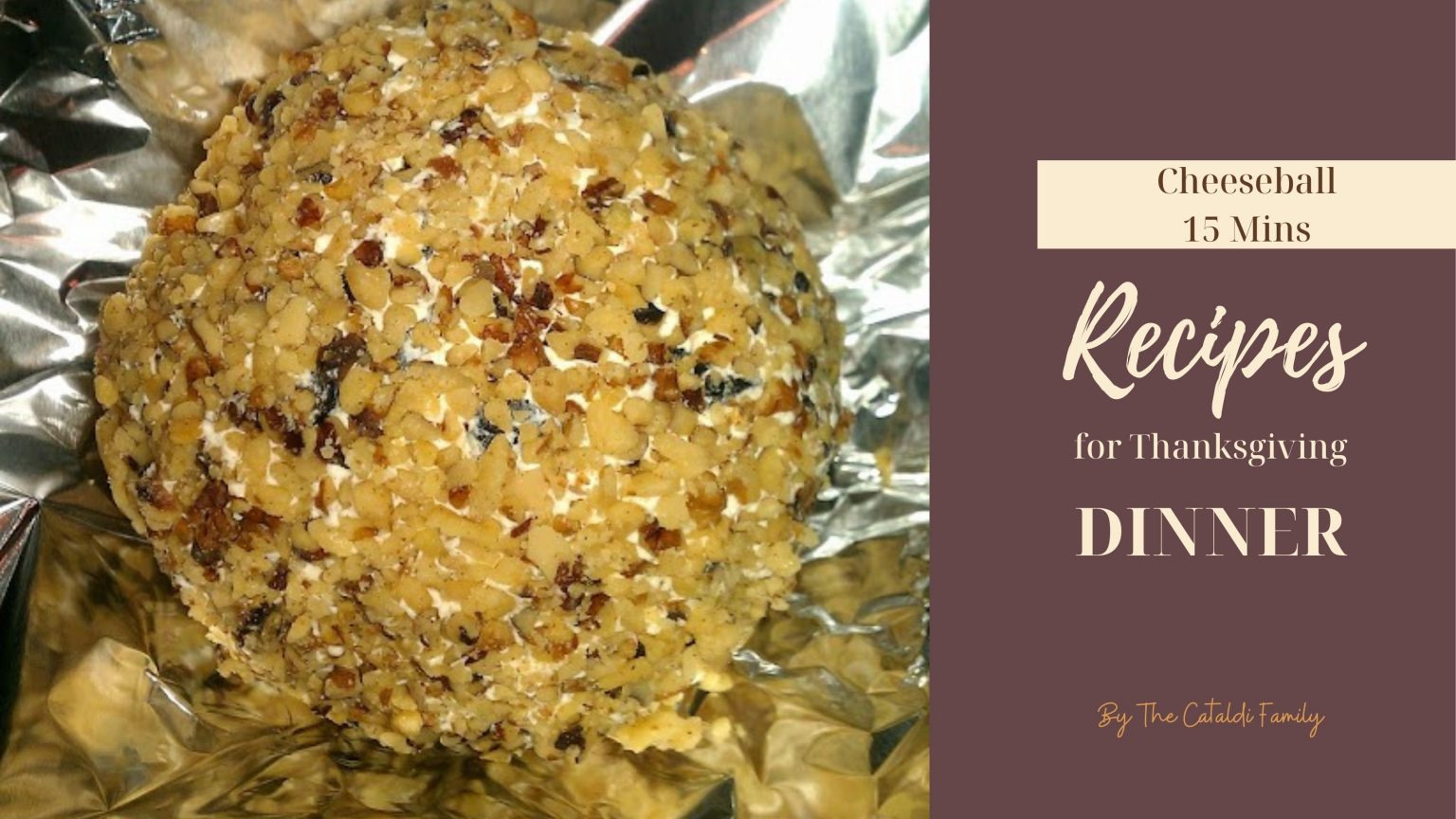 Most of the time I am not into soft spreadable cheese, unless it is on a bagel.  But this one is different.  It is a mix of cream cheese, butter, and blue cheese.  With those two and other additions plus rolled in walnuts; it is delectable.  Paired with ritz crackers and a good drink, why would you need anything else?  My mom would have it out as an appetizer while we waited for the main dinner.  
Prep Time

5 min

Cook Time

10 min

Total Time

15 min
Cheeseball
8 oz. package cream cheese
Blue cheese to taste
2 Tbsp butter (or margarine)
Chopped Olives (medium sized black olives 1 can)
1 Tsp garlic powder
Chopped walnuts (enough to cover the outside of the ball)
Prep
1
Mix together cream cheese, blue cheese and butter until completely mixed.  You can use a mixer, but your hands work just as well.
2
Add in the chopped olives and garlic powder to the mix.  Mix well.
3
Form into a ball and roll the outside with chopped walnuts.  Chill in the fridge overnight.
You can easily tweak the recipe to add more cream cheese or blue cheese.  It is all according to your taste.  Goes well with some Ritz crackers.  Enjoy!
2. Marinated Brussel Sprouts
Yes, they are not the first thing you may think of that would be good.  Heck, even when we are steaming them, they stink.  However, after they marinate overnight and another half of a day, they are just awesome.  My son loves them, and we have never had a complaint.  So, we must be doing something right.  Give them a try, you will not be disappointed.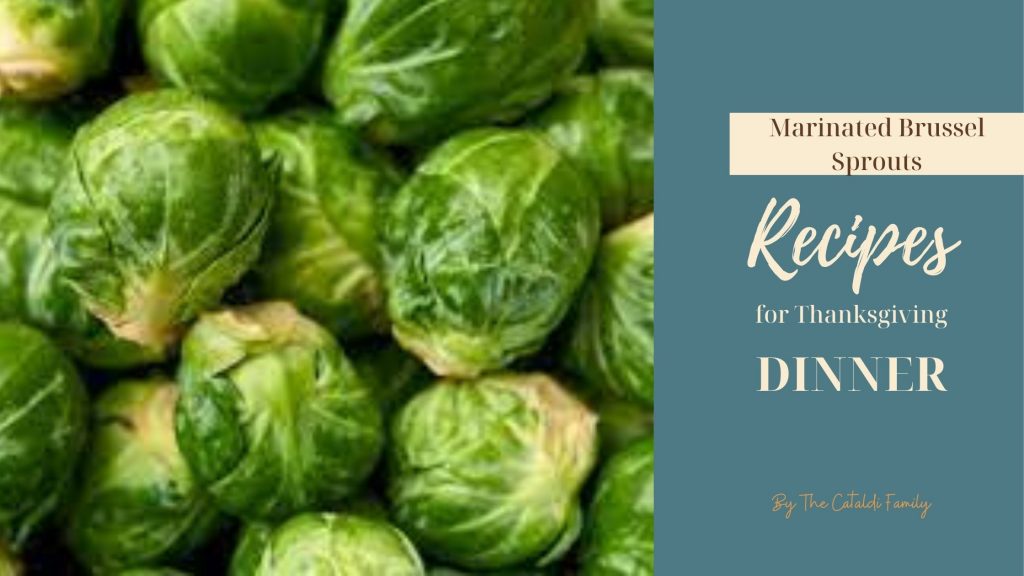 Prep Time

10 min

Cook Time

30 min

Total Time

40 min

Ready in

1 Day
Sprouts
1 pkg 10 oz frozen sprouts (I prefer to buy fresh ones as they come out so much better)
If you buy fresh about a pound, depending on how much you want.
Marinade
1/2 cup Tarragon Vinegar
1/2 cup cooking oil (vegetable is fine)
1 clove garlic minced
2 Tbs. thinly sliced scallions (green onions)
9 Tbs. Sugar
1 Tsp. Salt
Dash of Tabasco Sauce
Cooking the Sprouts
1
Cut the brussel sprouts in halves.  You can either steam them in a steamer or put them in the microwave with some butter.  Steam until soft (stick a fork or skewer in them and if it is easy to push through they are done).
2
Place cooled sprouts into a ziplock bag and pour marinade over them.  Seal and place into the fridge.
3
Turn them over every few hours and let them marinate over night.
This recipe can again be tweaked depending on how much you need or like.  Great addition to the table on Thanksgiving!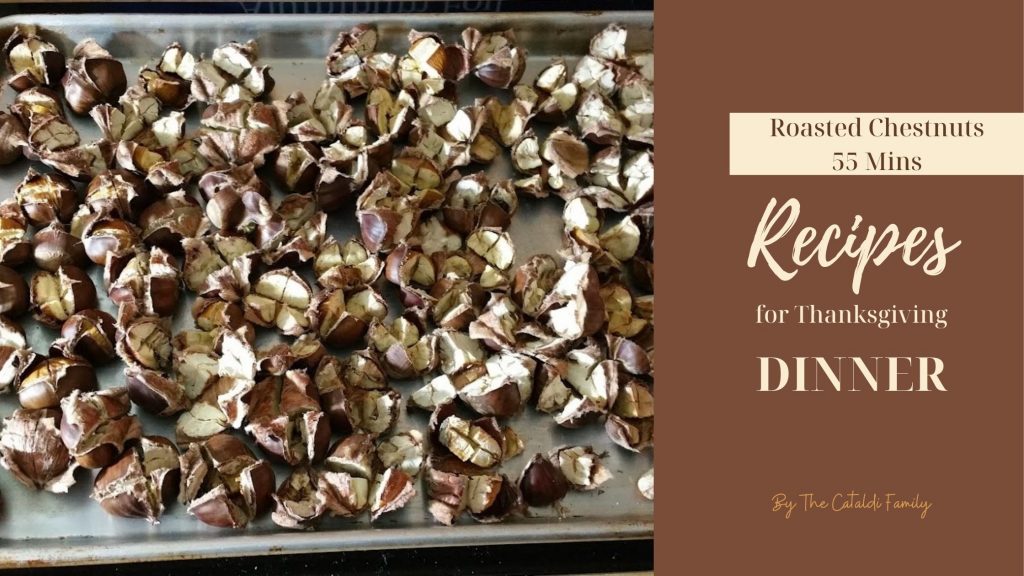 Chestnuts and this time of year practically go hand in hand.  They sing about them for god's sake.  Now we are not roasting them by an open fire.  Rather they are in the oven.  I know we each have our favorite stuffing depending on what we have grown up on.  This one is mine.  Try something different this season.  
Prep Time

15 min

Cook Time

40 min

Total Time

55 min
Chestnut Stuffing
1 lb chestnuts, roasted and peeled
3 ribs celery, chopped
1 small onion (yellow), chopped
1/2 cup melted butter
1 tsp salt
1/8 tsp pepper
1/4 cup heavy cream
2 Tbs. parsley (fresh)
1 bag fresh bread cubes (or make your own!)
Prep
1
If you are roasting your own chestnuts, cut a cross on the top of the chestnut, put them onto a baking pan and roast until they pop open.  Once peeled, place into a bowl.
2
Cook onions and celery in butter on a frying pan until tender.  Chop the chestnuts down in a food processor (until they have smaller pieces, not to dust).
3
Place bag of fresh bread cubes into a large bowl, pour celery and onion mix over the cubes.  Mix.
4
Add chopped chestnuts to the mix and remaining ingredients.  Mix well.
5
Place into a baking bowl (I use a round Pyrex bowl with a cover).  Put in the oven with butter slab on top of the stuffing until browned.  Around 30 minutes.  Keep an eye out.
This is my son's favorite stuffing.  He used to only want to eat the boxed stuff.  A definitely great add to the table this year!
We got this recipe from my sister-in-law one year to try something different.  We never turned back.  With just a few tweaks, we now have it every year.  It is a nice addition to the savory stuffing with the added sweetness.  I am thinking of coming up with another stuffing to add.  I have heard some others that people have made, and it is about time to add something new.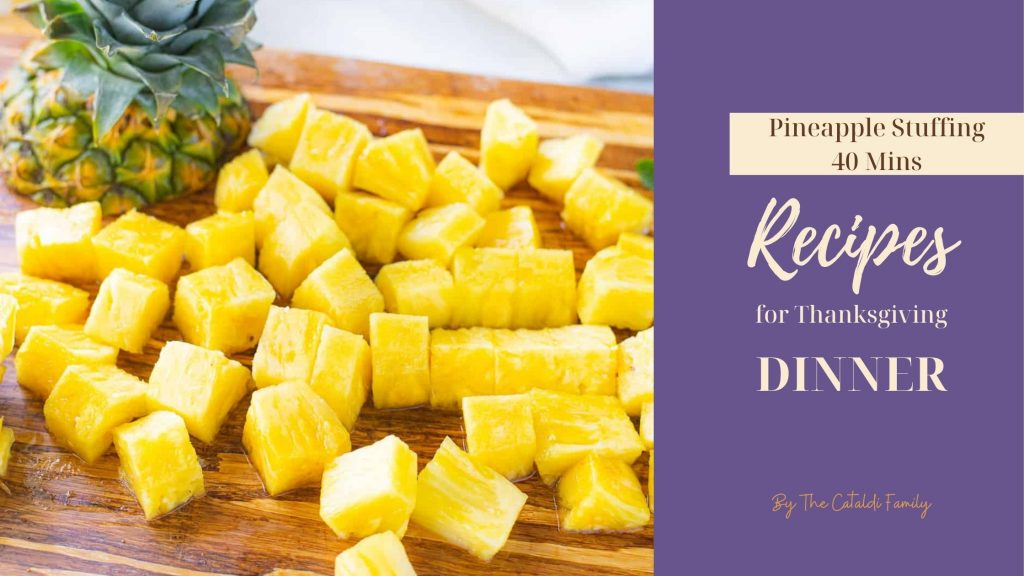 Prep Time

10 min

Cook Time

30 min

Total Time

40 min
Pineapple Stuffing
1/2 Cup Butter
1 Cup Sugar
1/4 Cup Orange Juice
4 Eggs
1 Can crushed Pineapple
I bag fresh bread cubes (or make your own!)
Prep
1
Preheat oven to 350 degrees.  Grease baking dish.
2
Cream butter and sugar.  Beat in the eggs one at a time.
3
Add pineapple, Orange juice and bread cubes. Mix well.  Place in baking dish, put slabs of butter on top and pop in the oven for around 30 minutes (or until brown)
You may want to either add or take away the eggs.  You can tweak to your liking.  My mom is not a fan of eggs so I normally use less, so it is more bread than egg.  This is a nice sweet addition to the savory Chestnut stuffing.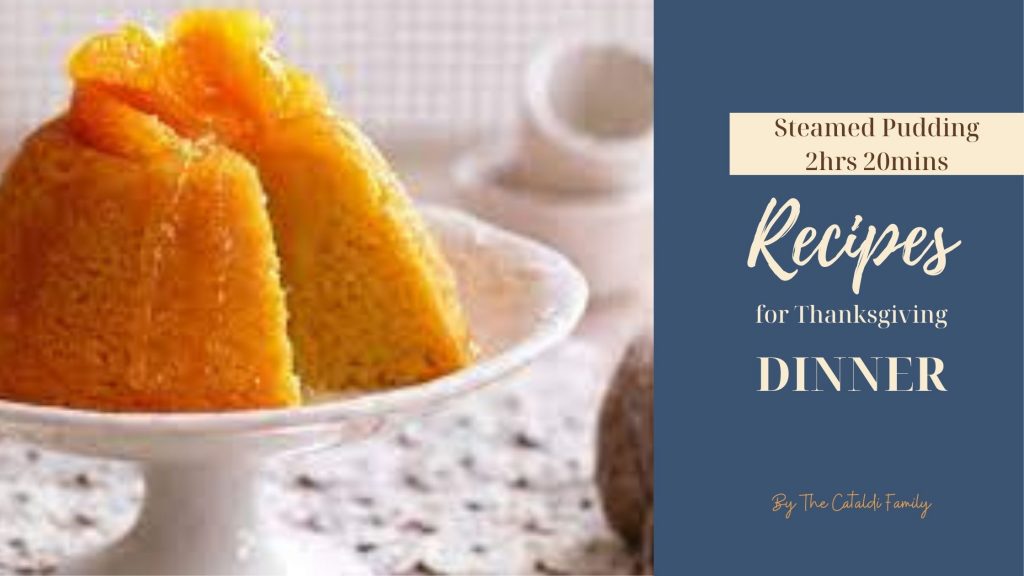 This is something my mom has made every year.  It took all day to make.  I haven't been able to make it the last few years.  It requires a mold that has locks on the lid.  It cooks within hot water and the last one the lid broke.  Unless we wanted to bob for pieces of cake in boiling hot water, it was a lost cause.  This year I have a new one.  Bringing the tradition back.  It has orange and lemon rind, oh so good.  Click here for the recipe.
Prep Time

20 min

Cook Time

2 hr

Total Time

2 hr 20 min
Steamed Pudding
1 Stick of Butter (1/2 cup)
1 Cup Sugar
4 Large Eggs
2 Cups Flour
2 Tbs. Baking Powder
1/2 Cup Orange Juice
1 1/2 Tbs. grated orange and lemon rind.
Rum Butter
1 Stick butter (1/2 cup)
3/4 Cup Powdered Sugar
2 Tbs. Dark Rum
1 Tbs. Orange Rind
1/2 tsp. Grated Nutmeg
Prep
1
In a large bowl cream butter (softened), add sugar a little at a time beating the mixture until fluffy.
2
Add the eggs one at a time, beating well after each addition.  In a separate bowl sift together the flour and baking powder.
3
Add this mixture to the butter and alternate with the 1/2 cup of orange juice.  Stir in the grated orange and lemon rinds.
4
Turn the batter into a well buttered 1 Quart steamed pudding mold and cover tightly with lid.  Set the mold on a rack in a kettle or large pot with a lid.  Add hot water to reach 2/3's of the way up on the mold.  Steam over moderate heat for 2 hours.
5
Let sit on rack for 15 minutes until inverting onto a serving plate.  Mix together the ingredients for the rum butter and pour over the pudding or serve with each piece.
You must have a steamed pudding mold with a locking lid.  Otherwise the batter will spill over and ruin the pudding.  Definitely worth the work!
I know we stick to our traditions. Mainly it is because it reminds us of better times, nostalgia and all the warm feelings. Keep these and continue that tradition. But bring something new and change it up a bit. You may find a new tradition to add. I hope you enjoy your holiday and keep it going for generations to come.